One of the most sought certifications in the Agile industry for Scrum Masters is Professional Scrum Master I (PSM I). The certification is offered by Scrum.org — The Home of Scrum. A foundational certification in the field of Scrum Mastery.
There are three levels of Professional Scrum Master Certifications Scrum.org offers. The other two are Advanced (PSM-II) and Distinguished (PSM-III) level certifications. There is no definitive order that you have to go. One can directly appear for PSM-III if they have a deep understanding of Scrum.
As the name suggests, "Professional" — One must exhibit a high standard of understanding in Scrum to gain this certification. PSM I demand an understanding of Scrum, as mentioned in the Scrum Guide and it tests the consistency in using Scrum.
In this blog, I am going to cover the
Ways to get Professional Scrum Master Certified
Assessment areas
Learning references
Tips to crack the exam
Ways to get Professional Scrum Master I (PSM I) Certified
Scrum org offers two paths to PSM I Certification — Training with exam & Exam (Direct).
Training
Training for PSM I are offered
As part of the training, a candidate gets two attempts at PSM I exam.
Note: Beware of the bait that few people in the industry claim to take Scrum workshops to help get PSM. Go with Authenticity.
Enrol a program after doing primary research on the trainer.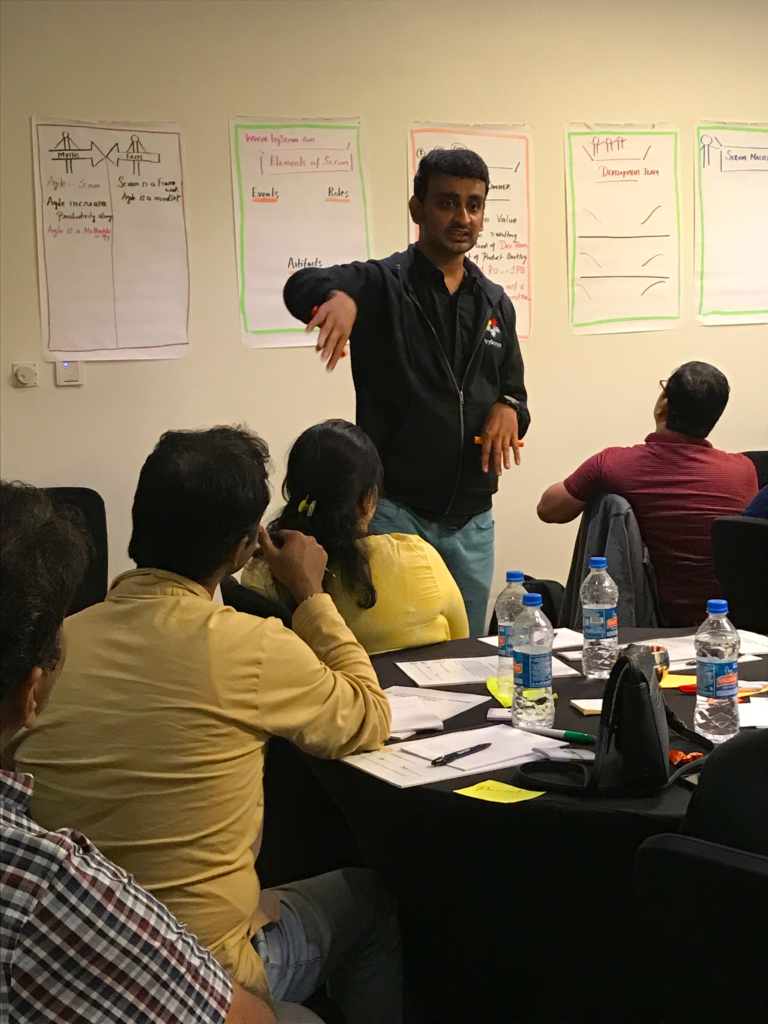 Direct Exam
One can directly buy a password from the Scrum dot org store by paying $150. The password is valid for only one attempt.
PSM I Assessment Areas
The foundational level, Professional Scrum Master (PSM I), assess a candidate's basic understanding of the below areas.
Scrum Framework Understanding & its Application
Empiricism
Scrum Values
Scrum Team
Events
Artifacts
Done
Enabling Teams
Self-managed teams
Facilitation
Coaching & Mentoring
Agility in Product using Scrum
Product Value
Product Backlog Management
Stakeholders & Customers
Forecasting & Release Planning
Learning References
In my humble opinion, attending a Professional Scrum Master Workshop gives one well-rounded knowledge in all the above areas.
Apart from the class, use the below references.
Tips to crack the exam
Let us start with the Assessment,
The assessment is of 80 Multiple Choices questions. And the time limit is 60 minutes. One has to get 68 questions right to achieve the pass percentage, 85%.
Bookmark questions to revisit. One may run out of time if more time is spent on a single question.
Utilise the Scrum Open Assessment to get yourself confident with the format of the main exam. The open assessments are free. Take it as many times as possible to get familiarised. The open assessments provide feedback for every question at the end.
Take the assessment in a calm place where one can have the utmost focus.
Be sure to have a good internet connection as well. Do not close the browser at any cost; the attempt will be lost.
For technical glitches, reach out to Scrum dot org support.
Learning Tips
Practice the usage of Scrum terminologies as in Scrum Guide. Maybe through forming peer groups or self-recordings to reflect. Like, Daily Standup →Daily Scrum; Backlog Grooming → Product Backlog Refinement.
Scrum demands Empiricism, Self-management and Product thinking. Understand the why's behind Scrum carefully and be mindful to choose answers adhering to it.
Watch out for universal statements in the exam. It may trap you to choose the wrong answer. Learn to differentiate the mandatory and non-mandatory elements in Scrum.
If you are unsure of the answers, try to avoid bad answers to nail the correct answer.
Move away from the traditional phase gated approaches. Learn to differentiate Scrum from traditional thinking and practices.
The Exam demands the information by the books. Go by the books and authentic information. Try not to bring one's experience with Scrum, as in practice, one may not follow Scrum by the books.
Special Note: Do not refer to any mock-ups or practice tests as those are not endorsed by Scrum dot org and may not be authentic.